Access our webinar.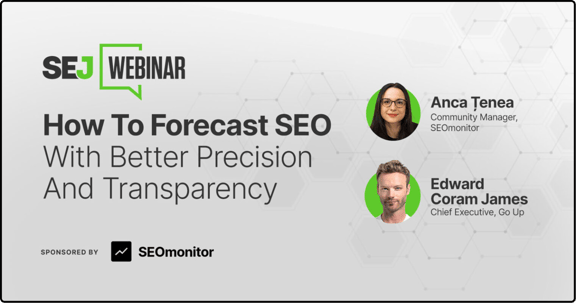 Proving the ROI of your SEO proposal is hard work. But it's important! You need technical resources, executive buy-in, business model alignment… just to start the project.
But SEO teams struggle:
To quantify their efforts' impact on a longer-term basis.

To align expectations between sales, marketing, and other stakeholders involved.
To trust the data when it comes to projected future outcomes.
That's where a reliable SEO Forecast comes in handy.
Rather than building a bigger black box, we've made an SEO Forecast solution that's as transparent as possible. So you can trust it. And your customers can trust it too.
In this webinar, you'll discover:
How Go Up, an award-winning SEO agency, uses SEOmonitor's Forecast to stress test data and validate leads.
SEOmonitor's Forecast methodology explained.
Go Up's use case with practical tips on how to get the most out of forecasting SEO.